History of the
Banks Peninsula Trotting Club

The first racing to be held at the Motukarara Raceway was the gallops in 1884. It was undertaken by the Banks Peninsula Racing Club (BPRC) which was seemingly a merger of several local racing clubs including the Peninsula Racing Club, Peninsula Jockey Club and the Akaroa Racing Club that raced at other sites including Little River and Birdlings Flat.
As several people holding official positions on the racing club had strong interests in harness racing, harness racing events were included in several programmes run by the BPRC at Motukarara, prior to the formation of the Banks Peninsula Trotting Club (BPTC).
The BPTC was formed in November 1950 with the first President being Cyril E. Gray.
Approaches were made over the next few years to both the NZ Trotting Conference and NZ Government to obtain support for the Club to have a totalisator licence but this support was not forthcoming initially.
Eventually, six years later, a permit was granted in July 1956 and the first BPTC harness race meeting was held on 22 December 1956.
It was not long before the BPTC became the most successful one-day club in New Zealand with stakes being increased year by year and a corresponding rise in attendance and totalisator turnover, both on and off course.
The Club's efforts resulted in recognition of its rights to additional permits. These did not come easily but when received, officials made a wise move to use the second permit, granted in 1977, between Christmas and New Year. This picnic meeting proved immensely popular with holiday makers, with the course being packed to overflowing.
Banks Peninsula Trotting Club continued to prosper and their efforts were rewarded with it having 3 full totalisator licences at the end of its first 40 years, with one of the first on-course only permits in New Zealand for use on a Sunday.
During this time, trial and Sunday work outs had become an important part of the harness racing at Motukarara. The adverse effect on the grass track of too many trials resulted in an all- weather track being constructed in 1975, initially as a training track, and in 1992 it was upgraded to be used fored for work outs and trials.
The Club has continued to grow from strength to strength and now holds six harness race meetings a year – all on the grass track. There have been many top line horses race and win at the Club's meetings over the years including Sundon, Lyell Creek, Vulcan and I Can Doosit. In two of the last three years, Habibti Ivy and Habibti Inta have won our feature race the D.G. Jones Banks Peninsula Trotting Cup for the same owner, trainer and driver.
Motukarara Raceway is used regularly for harness racing workouts. The track is no longer used for galloping meetings, however the BPRC still conduct occasional trials on the course.
Current BPTC President, Wayne May says "while the Club wishes to stage exciting grass track harness racing and support the industry and all those involved, we are committed to providing an event for all the family to enjoy. There is plenty of free on course entertainment for the kids and we encourage people to bring their picnic and have a day out with family, friends or workmates".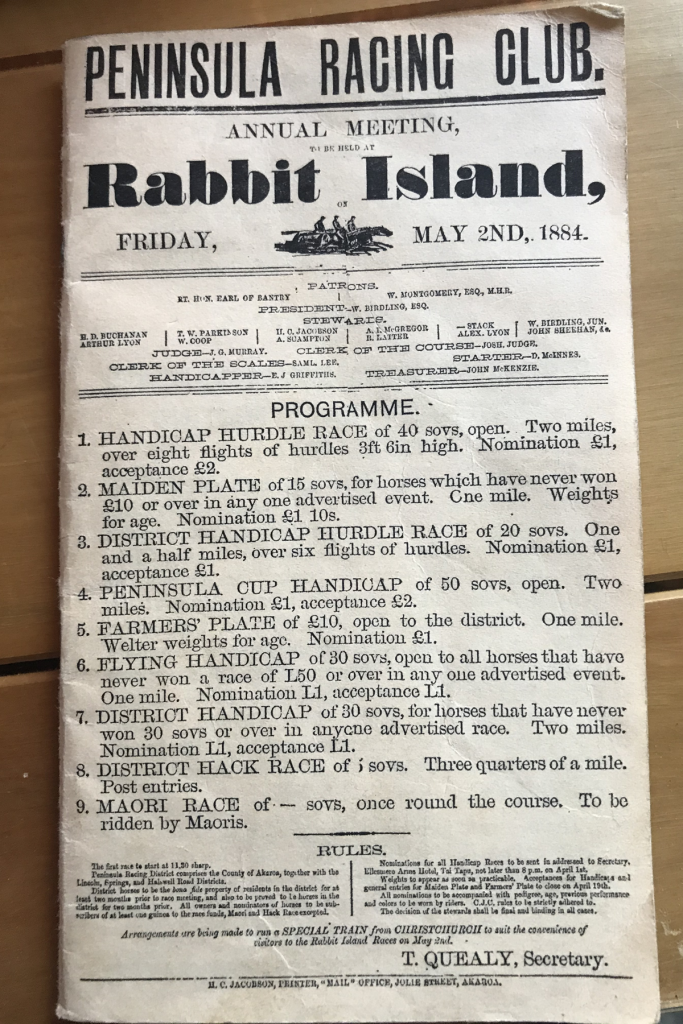 Programme for an early meeting of the Peninsula Racing Club at Rabbit island (Motukarara). No harness racing on the card yet.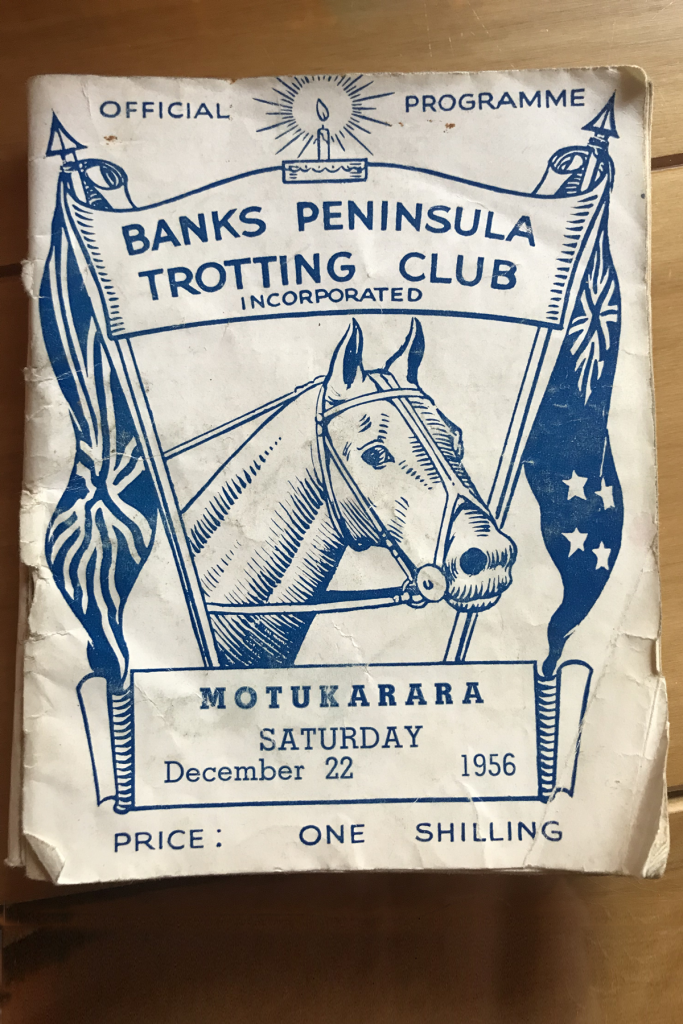 The first meeting of Banks Peninsula Trotting Club was held on 22 December 1956.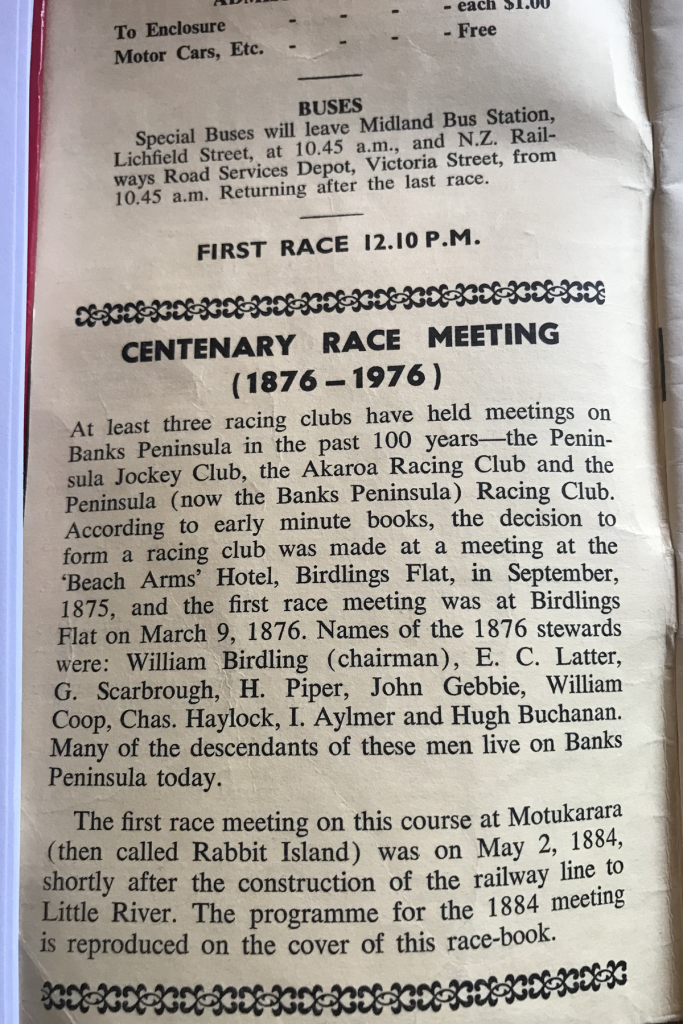 Historical snippets in the programme for the Banks Peninsula Racing Club's centennial meeting in 1976.